The happiest nation in the world
La Danimarca vanta un sistema orizzontale dal punto di vista dell'uguaglianza e un welfare così avanzato al punto di essere preso spesso ad esempio. Appena atterrerete all'aeroporto di Copenaghen troverete affissi dei banner pubblicitari chiarissimi: la Danimarca è "the happiest nation in the world". Questo titolo d'onore sarebbe confermato da Forbes, che registra il Paese come primo nella graduatoria dei "Best Countries for Business" e come detentore del primato nel Transparency International Corruption Perception Index.
Avrai modo di constatare tu stesso il valore di questi titoli già durante la tua esperienza di stage, ma anche dopo: l'OECD ha infatti evidenziato che in Danimarca il tasso di disoccupazione sul totale della forza lavoro è pari al 5,1%, mentre la percentuale della forza lavoro disoccupata da un anno o più si attesta all'1,3% (una percentuale inferiore alla media OCSE dell'1,8%).
Una delle ottime ragioni per cui scegliere lo stage in Danimarca sono quindi le buone possibilità di inserimento nel mondo del lavoro. Questo aspetto non è affatto marginale perché ti consentirà di smentire i tuoi amici che tornati dopo un viaggio a Copenaghen hanno riferito che la città è eccessivamente cara. Il reddito medio disponibile pro capite nel Paese è di circa 26.400 euro annui, e rispetto ad esso il costo della vita è proporzionato.
Mettendo da parte i numeri e facendo spazio ai sentimenti, c'è una parola molto utilizzata in danese che racchiude lo stato emotivo che spesso si prova quando si vive, anche per brevi periodi, in Danimarca: hygge, ossia creare un'atmosfera accogliente e godersi il bello della vita insieme a persone care, o in altre parole: vivere la gioia delle piccole cose.
Forse al di là delle statistiche, è proprio questo hygge che rende la Danimarca "the happiest nation in the world".
Fare a meno della macchina
Spesso quando ci si trasferisce in un altro paese si finisce per sentire la mancanza delle quattro ruote. Da questo punto di vista la Danimarca è così ben organizzata da non far rimpiangere nemmeno per un secondo la macchina lasciata in Italia: gli spostamenti sono semplici sia all'interno delle maggiori città, ma anche del Paese in generale. Se prendiamo ad esempio la capitale, Copenaghen garantisce mezzi di trasporto affidabili e puntuali, che consentono di raggiungere ogni area della città anche di notte. Se si prevede di rimanere a lungo nella città, come nel caso di uno stage, la soluzione più conveniente è l'acquisto della Rejsekort, una carta di viaggio prepagata che consente l'utilizzo di tutti i mezzi pubblici senza limitazione di fascia o orario.
Una valida alternativa a treni, autobus, battelli e metropolitane è offerta dagli oltre 12.000 km di piste ciclabili che attraversano l'intero paese. Spostarsi in bici in Danimarca è sicuramente un'esperienza da non perdere: non troverai ad ostacolarti grandi salite né automobilisti poco rispettosi, sarai invece circondato da più biciclette che veicoli!
La vita notturna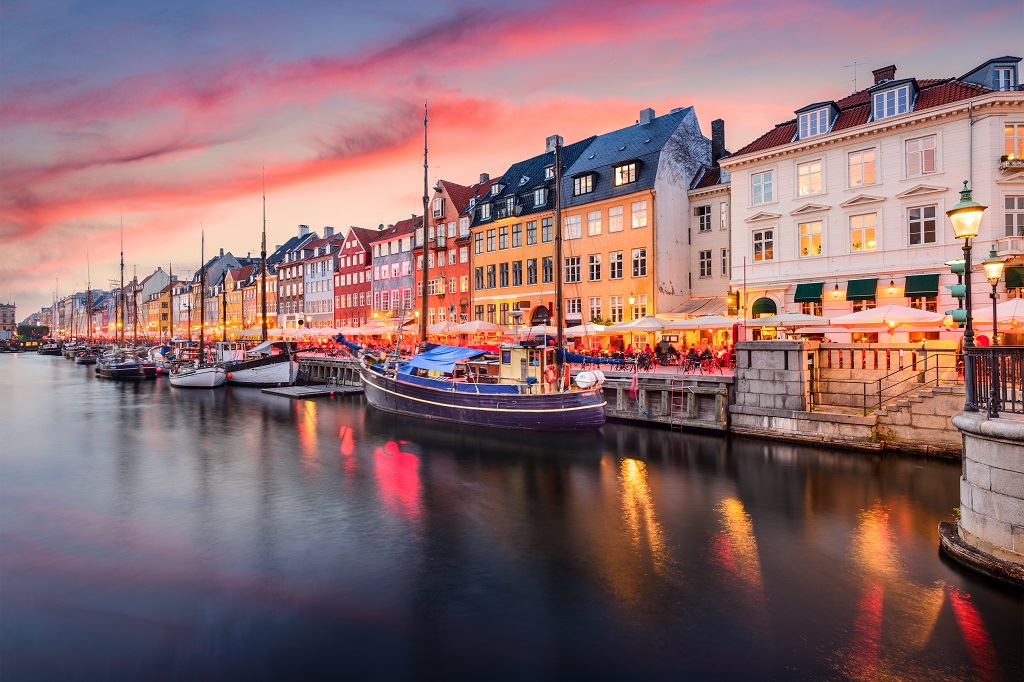 Se effettivamente chi dice che la vita da turista in Danimarca è cara ha in qualche senso ragione, non date ascolto al luogo comune secondo cui non ci sarebbe divertimento notturno. Soprattutto la capitale Copenhagen consente di scegliere tra numerose attività che metterebbero a dura prova anche il festaiolo più incallito. Dal giovedì sera alla domenica sono in molti ad animare, ad esempio, l'isola pedonale di Strøget nel centro storico della città. Dopo la mezzanotte non sarà difficile trovare la discoteca che fa per voi, tra tutte ricordiamo il Culture Box, il Vega Natklub e il Club Rust. Quando si parla della movida danese è inoltre impossibile non menzionare la scena LGBTQ: in tutto il Paese si respira un'aria di libera espressione, e si può essere se stessi in ogni momento della giornata. Nello specifico, Copenaghen ospita il CentralHjørnet, uno dei più antichi gay bar d'Europa.
Durante le vostre serate sarebbe un peccato non "assaggiare" i prodotti della storia secolare della birra danese: dalle più popolari Ceres, Carlsberg e Tuborg alla birra di Babbo Natale, la Julbryg – particolarmente apprezzata dai cittadini danesi durante le fredde vacanze natalizie. Avrete modo di provare la birra danese in ottimi birrifici anche al di fuori di Copenaghen: menzioniamo ad esempio il pittoresco Herslev Bryghus a Roskilde, a circa 50 km da Copenhagen.
A questo punto dovreste essere pronti ad affrontare anche i circa 170 giorni di pioggia annui con la certezza di trarne un'esperienza utile da un punto di vista professionale e umano.
Se cercate altre informazioni sullo stage in Danimarca potete trovarle qui.
A noi non resta che augurarvi buon viaggio, e che lo spirito hygge sia con voi!